Standard Summary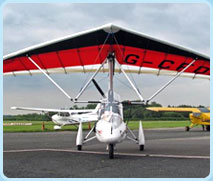 For the latest aircraft prices, please click here

The topless QuikR is the fastest and most advanced weightshift today with a 100MPH cruise and slow 40MPH stall. With a 450kg maximum takeoff weight and tested to +6 and -3gm the wing has been rig tested for pitch stability. The quick rig and de-rig facility helps to use as little hangar space as possible and in as little as 5 minutes. The QuikR complies with BCAR Section S issue 4 which is the toughest airworthiness standard in the world.

The QuikR is a no-nonsense high-speed touring aircraft ideal for eating up the miles with a hands-off trim range of 65MPH - 100MPH using the unique electric trimmer as first used on the original Quik. Now with a strut-braced topless wing, distinctive winglets, and slightly increased wing area of 11.43 Sq m.

The Quik just got quicker!


Performance Data
Wing
Max level speed
105mph (170km/h)
VNE
120mph (193km/h)
Trim Speed - Max AUW
65-95mph
Trim Speed - Min AUW
55-100mph
Climb rate @ MTOW
912s

1150ft/min

Stall speed @ MTOW
40mph (64km/h)
Take off to 15m, MTOW
912s

274m
Landing dist from 15m,MTOW
211m
Ultimate strength
+6g, -3g
Manoeuvre loads
+4g, -0g
Wing Span
8.45m
Wing Area
11.43sqm
Rate of Descent
500 ft/min
Trike
Empty Weight
912s

220kg
Max pilot/pass weight
220kgs
Seat Load
110kgs
Min pilot weight
55kgs
MTOW
450kgs
Wheel track
165cm
Wheel Base
182cm
Trike Length \ Width \ Height
290cm \ 183cm \ 230cm
Overall Height \ Length
2.75m \ 3.8m
Engine
| | |
| --- | --- |
| Fuel Capacity | 65 Litres |
| Max RPM | 5500 |
| Engine | Rotax 912S 100HP |
Standard Equipment
Trike
| | |
| --- | --- |
| Electric Start | Climb in and push the button! |
| Propellor | Warp Drive 1.7m 3 Blade composite (black) |
| Fibreglass Pod | Full Pod/Screen/Dash Panel |
| Skirt | Lighweight side skirt with two zipped map-pockets |
| Seat | Quick-Rig Composite Seat with slotted back for rigging or derigging without removal. Complete with integral folding back support for pilot. Luxury seat cushion. |
| Wheel Spats | Large Finned Wheel Spats Kit |
| Brakes | Dual Hydraulic rear wheel disk brakes & Parking Brake System |
| Throttle Control | Seat-mounted Choke and Hand throttle levers, seat-mounted dual contact switches with waterproof covers and pedal-mounted foot-throttle. |
| Fuel Tank | 65 Litre Polyethelene tank mounted under the seat |
| Touring Screen | Two part large windscreen for maximum comfort at Quik speeds |
| Storage Bag | Portable bag that clips into pod space under Pilot's legs |
| Lynx Antenna | Fitted as standard with power supply lead for Comms |
| Trike Cover | Protects your trike whilst transporting |
| Propellor Cover | Padded cover for 3 Blade Propellor |
Wing
| | |
| --- | --- |
| Sail | QuikR wing, state of the art strutted topless design, with automatically rigged internal sprogs. Sail with PX10T laminate leading edge, Kevlar reinforced aramid trailing edge and HTP top surface. |
| In-Flight Trim System | In-flight electric trim system with trim range from 55 - 100 mph |
Instruments
Rotax Flydat or Analogue Engine Instruments
80mm VSI
Altimeter and ASI
Electronic Fuel Gauge
Silva Compass & Battery Supply Meter
Electronic Trim Indicator