The QUIK is at the cutting edge of flexwing aircraft development, taking the microlight definition to the extreme.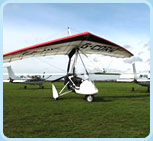 The wing and trike unit have been designed to offer speed, climb, performance, comfort, quietness and, above all - relaxed flying in weather conditions avoided by the normal flexwing pilot.
With its light handling, precise feel, over 100mph top speed and over 80mph trimmed cruise speed, the Quik is the ultimate cross country machine.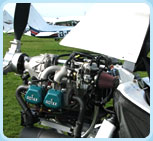 The Gas rigging strut takes the weight of the wing during rigging and is neatly tucked away to provide under-seat storage.
Ajustable steering to suit all pilots, short or tall, the front wheel and forks slide into either forward or rearwards position.
For the latest aircraft prices, please contact us by clicking here