July 2015
As from the beginning of this month, Jim Cunliffe who kindly stepped in to run our Rochdale office after Roger Pattrick left the company at the beginning of the year, will be going part time from now onwards.
Jim will however still be available to help with customer service requirements or your individual enquiries if you wish to talk to him directly. Contact details will be made available from our Rochdale office.
June 2015
Spamfield - Isle of Wight
P&M flew their new 'Quik Lite' SSDR trike and a 'Quik GT Lite' to Spamfield this year despite poor vis and breezy conditions. With over 180 aircraft on the ground on the Saturday, this year's event was hailed a huge success with spot landing demonstrations going on and a great opportunity to catch up with friends.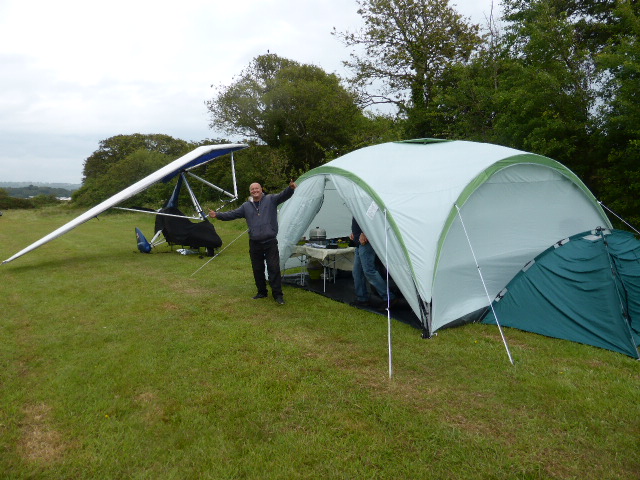 Above
Dan Subhani outside his two tents where he gave cookery demonstrations. All this plus cooking gear, inflatable sofa's, home cinema system and food came out of his GTR......... More on Dan and his passion for cooking and flying later.
----------------------------------------------------------------------
May 2015
PulsR & Quik GT Lite leave for Canada
Another PulsR with a special cabin heater fitted is now on its way to Canada, along with a Quik GT Lite to keep it company in the container.
April 2015
Spring Newsletter 2015
CHECK OUT OUR LATEST NEWSLETTER . CLICK FOR NEWSLETTER
ALL THE NEWS PLUS TECH TOPICS
SEPTEMBER 2014
Autumn Newsletter 2014
Read the latest P&M Autumn newsletter giving you latest about what we are up to. Autumn Newsletter - Click here