News
Feb 11


QuikR Breaks World Speed Record.

David Broom and John Lawrence flying a QuikR from Sutton Meadows has set not one, but two world records with a standard 912s QuikR. They achieved 164.53km/h (102.23 mph) average over a closed circuit, beating the previous record of 146.7km/h (91.16mph) set by the GT450. Also setting 165.74km/h (102.99mph) over a straight 15km course. The results are now subject to ratification by the FAI, and when confirmed will add another mark for the QuikR in the record books.
August 10


QuikR Wins European Microlight Championships.

The QuikR, piloted by World Champion Rob Grimwood and Navigator John Waite wins the 2010 European Microlight Championships held at Sywell, Northamptonshire. They comfortable demonstrated the all round performance of the QuikR succesfully taking off and landing in a 100m box during precision tasks, whilst completely out performing all in both economy and speed tasks. Rob Grimwood also won the British Microlight Championships for the 3rd consecutive year in a P&M Aviation aircraft.
Feb 10


CT2k & CTSW Obtain UK Approval With A Ballistic Parachute.

The CT2K & CTSW obtain full approval for the installation of a Junkers ballistic soft pack parachute. The installation also means that the maximum take off weight increases to 472.5kg from the original 450kg. This is the first UK microlight to be approved at the increased weights. This allows for an increase in fuel vs cockpit load, or the installation of a radio or transponder as a modification.
August 09


QuikR Wins Again. This Time The World Microlight Championships.

Hot on the success in the World Air Games, the QuikR piloted by Rob Grimwood and navigator Andy Aiken has won Gold in the 12th FAI World Microlight Championships, in the two seat weight shift category. Proving that the QuikR is not only fast but also the best all round aircraft available. Congratulations to Rob and his navigator Andy. Also congratulations to Simon Baker and Anita Holmes for achieving a strong bronze medal position in their Quik GT450.
June 2009


World Air Games 09 Victory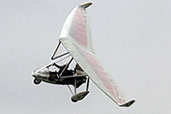 The QuikR won gold and silver in the World Air Games 09 beating all comers in the pylon races posting fastest times in all heats and the final. Congratulations to Rob Grimwood, Chris Saysell for Gold and Rob and Rees Keene for Silver. The aircraft used were standard QuikRs competing against purpose built aircraft with much larger engine power. Both teams flew their aircraft from England to the event in Italy, including a crossing of the Alps, and launched straight into their winning ways. Congratulations also to Paolo Rossi & Maurizio Vanzini for bringing their Quik winged Rossi trike into 3rd position making a clean sweep for P&M Aviation wings.
May 2009


Magic Laser wins outright the first UK Ultralight Single Seat Rally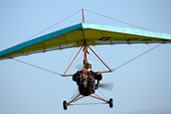 Held at Sywell Airfield on 22-25 May 2009, pilot Kevin Grayson, a low houred pilot, flew a Magic Laser with Rotax 447 engine to victory in three of the four categories. Winning maximum point to point distance with a corrected total of 934km, maximum straight line distance from Sywell, reaching Gretna Green, and for maximum duration of any one flight with a flight time of 2hr 44min, beating other soaring trikes in the process. In total proving what a superb all round machine the Magic Laser is, proving that you can have seriously inexpensive fun flying.
January 2009


Flight Design CTLS LSA aircraft now available in the UK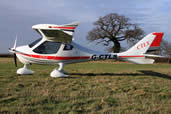 In collaboration with Flight Design of Germany we have achieved in the UK the registration and issue of a Permit to Fly for the first CTLS LSA aircraft at 600 kg. The CTLS can be operated in the UK with the issue of an EASA Enduring Permit to Fly now covered by our National Authority the CAA. Please call Oliver Achurch of P&M Aviation on (0771) 1700948 or feel free to call the office for more information.
October 2008


AveoFlash Wing Position/Strobe Lights Now Available For The QuikR & Quik GT450

P&M Aviation are proud to announce the availability of AveoFlash wing position/strobe lights for the new QuikR and the Quik GT450. These powerful LED lighting units are housed in an aerodynamic sealed unit with red or green front light, white rear light and white flash light and provide excellent all round visibility and no glare or flash in the cockpit.
The strobe and position lights are independently switched and fitted with a circuit breaker.
August 2008


A Quik and a GT 450 Feature in BBC's Britain from Above Programme

Flying in the highlands of Scotland with Andrew Marr.
To view the video...more >>
August 2008


GT 450 Wins Gold & Bronze In The European Championships 2008

Congratulations go to Rob Grimwood and Chris Saysell for winning Gold in the dual flexwing category of the European Championships 2008 held in Poland. Also congratulations go to Robbie Keene and Timmy Keene for winning Bronze in the same event.

Both teams flew their aircraft from England to Poland prior to their winning ways in the event proving how versatile the Quik GT450 is.
August 2008


QuikR Has Full UK Approval

The new QuikR featuring an all new strutted, topless wing has now been fully approved by the UK Civil Aviation Authority. The aircraft is the first to achieve a genuine 100mph hands off trim and still have a stall speed at 40mph. For more details have a look at "Our Aircraft" section and for pictures of this fantastic new aircraft go to the "Gallery" section.