Standard Summary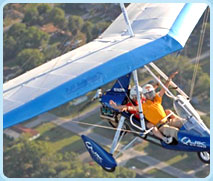 For the latest aircraft prices, please click here

Based on the high performance Pegasus Quik, the GT450 comes with a new 13 sq\m wing, with a maximum take of weight of 450kg.
Individual seat loads of 110kg, and maximum fuel capacity of 65 litres.
Superb slow speed handing, genuine trim speeds of less than 50mph solo and 55mph dual, all without sacrificing maximum straight and level speeds of 95mph, 80mph trimmable.
Now you can have it all.
Performance Data
Wing
Max level speed
95mph (152km/h)
VNE
110mph (177km/h)
Trim Speed range(max\min Weight)
55-75mph \ 47-80mph
Climb rate @ MTOW
912s
912

1250ft/min
1075ft/min
Stall speed @ MTOW
38mph (48km/h)
Take off to 15m, MTOW
912s
912

202m
216m
Landing dist from 15m,MTOW
172m
Ultimate strength
+6g, -3g
Manoeuvre loads
+4g, -0g
Wing Span
925cm
Wing Area
13sqm
Rate of Descent
517 ft/min
Trike
Empty Weight
912s
912

217kg
214kg
Max pilot/pass weight
220kgs
Seat Load
110kgs
Min pilot weight
55kgs
MTOW
450kgs
Wheel track
165cm
Wheel Base
182cm
Trike Length \ Width \ Height
290cm \ 183cm \ 230cm
Overall Height \ Length
374cm \ 370cm
Engine
| | |
| --- | --- |
| Fuel consumption @ 75mph | 13 lph |
| Fuel Capacity | 65 Litres |
| Max RPM | 5500 |
Standard Equipment
Trike
| | |
| --- | --- |
| Electric Start | Climb in and push the button! |
| Propellor | Warp Drive 1.7m 3 Blade composite (black) |
| Fibreglass Pod | Full Pod/Screen/Dash Panel |
| Skirt | Lighweight side skirt with two zipped map-pockets |
| Seat | Quick-Rig Composite Seat with slotted back for rigging or derigging without removal. Complete with integral folding back support for pilot. Luxury seat cushion. |
| Wheel Spats | Large Finned Wheel Spats Kit |
| Brakes | Dual Hydraulic rear wheel disk brakes & Parking Brake System |
| Throttle Control | Seat-mounted Choke and Hand throttle levers, seat-mounted dual contact switches with waterproof covers and pedal-mounted foot-throttle. |
| Fuel Tank | 65 Litre Polyethelene tank mounted under the seat |
| Touring Screen | Two part large windscreen for maximum comfort at Quik speeds |
| Storage Bag | Portable bag that clips into pod space under Pilot's legs |
| Lynx Antenna | Fitted as standard with power supply lead for Comms |
| Trike Cover | Protects your trike whilst transporting |
| Propellor Cover | Padded cover for 3 Blade Propellor |
Wing
| | |
| --- | --- |
| Sail | GT450 high-performance 2 seaterwith Trilam l/ edge, kevlar trailing edge |
| In-Flight Trim System | Trimmable speed range of 55-82mph |
Instruments
Rotax Flydat or Analogue Engine Instruments
80mm VSI
Altimeter and ASI
Electronic Fuel Gauge
Silva Compass & Battery Supply Meter
Electronic Trim Indicator